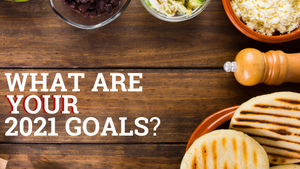 8 Ways tucocina Can Help You Achieve Your 2021 Goals
With a year like 2020 behind us, the only way to go is up. For a lot of us, 2020 was the year of take out and bad food choices. No one can blame you for your response to an international pandemic! We all deal with these things in different ways. 
That being said, in 2021 you may be looking to improve upon your new-found habits. It's the running cliché that everyone wants to lose weight after the new year, but what are some other ways you can change your relationship with food in 2021? Here are 8 ways tucocina cookware can help you achieve your goals.
1. Ditch delivery, and cook from home:
According to Bid-On-Equipment, during the pandemic, people reported ordering takeout 2.4 times per week and spending a total of $67 weekly. That's $2,680 in the last 10 months for one household alone! 
Cooking your take-out favorites from home is rewarding, delicious, and inexpensive. Why eat cold tacos dropped off 20 minutes after they had been prepared, when you can make easy, fresh tortillas in your own kitchen? Using our aluminum tortilla press will change your mind on take-out tortillas for life. 
2. Learn how to cook:
For some people, cooking is a new adventure. In a survey conducted by Tufts University, it was revealed that 28% of Americans can't cook. Maybe you're a freezer aisle connoisseur, or part of the earlier mentioned take-out crowd, it's never too late to learn a new skill!
In a survey conducted by OnePoll, it was revealed that the top five meals that Americans can prepare without a recipe were all breakfast foods. There's nothing better for a beginners breakfast than a non-stick stovetop griddle. Nail a new French toast recipe, while simultaneously cooking bacon and eggs. Clean up will be made even easier having been cooked on one surface. 
3. Treat yourself:
At some point or another most people have attempted to limit their sweets intake. Whether you were successful or not is a different story. 
After the year we have had, it's safe to say we can treat ourselves a little more. Use 2021 to find that balance between excess and total limitation. Create the perfect hot chocolate recipe to satisfy your sweet tooth and get through these next cold months with our chocolatera de aliminio. Also great for making homemade ganache, or a simple, sweet cup of coffee. 
4. Become a home bartender:
Late nights at the bar have been put on halt until further notice, but evenings with your friends and few cocktails do not need to end. Zoom happy hour has been a trend that has taken off this year. Impress your friends with a new cocktail recipe you have found, and take it one step further with a fully stocked bar of goods. 
Get fresh squeezed lime juice in seconds with your very own, effortless lemon juicer. Not only will you love it, your friends will envy your fancy new gadget and effortless bartending skills. 
5. Spend more time with your family and friends:
We are strong believers that food can bring people together. This idea is what has driven our love for cookware, and spreading that love to you. The events of the pandemic has made coming together difficult, but not impossible. Zoom has been the go-to tool for businesses, friends, and family's alike to connect from all over the world. 
Use this year to begin cooking together over video calls. Decide on a fun recipe and meet to cook together once a week. Surprise your family and friends, and send them a new set of non-stick sauce pans for your weekly cooking sessions, or perhaps you'd rather they shop for themselves with a convenient, instant digital gift card. This will set a fire for their passion and excitement toward cooking, and will fuel their gratification for their time spent with you. 
6. Try new cuisines:
A lot of times, we get in a rut of the same dinners over and over, keeping a rotation of the same 5 recipes every week. If you're new to traditional Latin recipes and are interested in exploring, you have come to the right place. 
Find Latin cookware right here on tucocina to expand your cooking expertise beyond your usual rotation. With tools such as our best-selling plantain press or our handy, stove top arepa grill for electric stove tops, or gas stove tops, you'll be expanding your personal catalog with recipes from all over the world. Find recipes right here on our blog!
7. Spend more time outdoors:
It's safe to say, a lot of 2020 has been spent indoors. In a poll conducted by OnePoll, it was revealed that seven in 10 people consider a perfect night in the living room and on the sofa. 
Spending more time outdoors is a goal worth achieving in 2021. Activities like camping, hiking, or even porch sitting will give you that breath of fresh air that you desperately need. 
Camping is not complete without delicious meals cooked over the fire. Tucocina offers durable equipment, such as an aluminum caldero with thick handles for easy gripping, or a Chocolatera de Aluminio for your morning coffee.
8. Support more small and local businesses:
If one good thing has spawned from 2020, it was the awareness shed on small businesses. The push to purchase from locally owned businesses has been a huge, impactful movement across the country. Knowing that your purchase has put food on a family's table can be fulfilling. 
At tucocina, every order placed is a small celebration for us. We hand package every order we fulfill with admiration for you, our customers, for choosing to support our family-owned operation. 
If your goal in 2021 is to support small business, you have come to the right place! Check out our full catalog on tucocina.us to achieve your goal this year! 
For more tips, recipes, and guides, subscribe to our mailing list and receive updates on your favorite cookware company! 
---