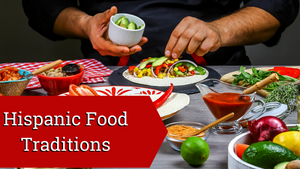 Hispanic Food Traditions
Between September 15th and October 15th coincides with multiple Hispanic countries and their annual celebration of independence. Costa Rica, Honduras, El Salvador, Guatemala, Nicaragua, and Mexico all share independence days on September 15th, 16th, and Chile on the 18th of September.
To honor Hispanic Heritage Month, we take a moment to recognize famous traditions in Hispanic culture and the types of foods used to celebrate. For every festival, there is a food that is historic to commemorate that occasion. 
And in each region of the Hispanic world, there are different variations of foods and traditions. Check out our list below of traditions and foods that make Hispanic culture so incredible. 
Famous Traditions In Hispanic Culture
One of the main foods that are celebrated in Hispanic culture during many festivals is the tamale. A tamale is a Mesoamerican corn-cased masa steamed in a corn husk, stuffed with meats, cheeses, fruits, vegetables, and chiles. Historically, tamales were thought to be the food of the gods in Aztec, Mayan, Toltec, and other ethnicities. 

Families and friends would come together to tell stories, share history, and celebrate over food. With each passing century, those traditions were passed down first through oral history and later through the written recipes and traditions passed down between different generations. 

These traditions and festivals have their roots in centuries of stories, celebrations, and memories passed down through the pageantry and the food represented. We absolutely love tradition at tucocina tradicion latina. 
Dia De Los Independencia
On September 16th, during the time of Hispanic Heritage Month is Mexican independence was celebrated. Every year people decorate their homes, have gatherings and parties, and descend on the federal government buildings in Mexico City to celebrate the country's independence from Spanish rule. 
Fiestas and parades are filled with traditional Mexican cuisine from street tacos and more. 
Dia De Los Muertos
Staying in Mexico every November 1 and 2 is the celebration of Dia De Los Muertos or Day of the Dead, a tradition dedicated to honoring those loved ones who have passed. November 1st is dedicated to "Angelitos," or the deceased children, while November 2nd is dedicated to the remaining family that has moved on. 
People celebrating and honoring their loved ones paint their faces, wear bright clothing and flowers in honor of the deceased and meet together at cemeteries to eat and commemorate. 
Some of the more typical foods that are served during the Dia De Los Muertos festival are: 
Day of the Dead Cookies: Chocolate and sugar skulls are placed alongside skull-shaped cookies as a tribute to the loved ones who've gone on. 
Candied Pumpkins: Much as pumpkins are used during the Halloween season in North America, during Dia De Los Muertos, candied pumpkins are prepared to eat and share as gifts from the living to the spirit world. 
Oaxacan Hot Chocolate: Hot chocolate and chocolate, in general, is much less sweet in Mexico and the rest of Latin America than it is in the United States. Oaxacan hot chocolate is typically seasoned with fall spices such as cinnamon to offset the flavors of the slightly bitter chocolate.  
Chicken with Mole: Negro Mole or dark-mole is widespread, and the bitter chocolate Mole is typically served over chicken during the festival. 
Fiesta Rosa - Quinceañera
In Hispanic culture, the coming of age for girls is a time to be celebrated and shared with loved ones over food. The fiesta, known as Fiesta Rosa, or more commonly the Quinceanera, is celebrated for a girl turning 15 and being recognized as a young woman. 
The festejada, or birthday girl, is adorned in a flowing gown and tiara and given gifts by family and friends to celebrate her transition into womanhood. The party usually begins after a church service and is followed by food and dancing. Comfort foods such as pozole and Menudo, as well as tamales, are typical at a quinceanera. 
Las Mananitas
A traditional birthday song that is sung typically before breakfast and again before eating cake. In some countries such as Colombia, the music is exclusively sung to girls, especially at their quince (15th) birthday. In Puerto Rico, Las Mananitas is sung to celebrate Our Lady of Guadalupe. 
Carnival
In Hispanic culture, Carnival is a huge party celebrated between January and early March to coincide with the beginning of Lent. The pageantry of Carnival, the dancing, the parades, and the dress are only rivaled by the food prepared for the festival. 
In Brazil, some of the more famous dishes during Carnival include: 
Feijoada: The national dish of Brazil, Feijoada is a slow-cooked pork and beans with onions and garlic stewed together that is served with salsa and placed over a bed of white rice. 
Baiana: Also known as Moqueca Baiana, this dish is made with cod or monkfish, red, yellow, and green peppers, lemon, tomatoes, and onion seasoned with coriander, paprika, and coconut milk to be served with white rice. 
Caruru: This dish is a Brazilian version of gumbo made with shrimp, okra, and toasted pine nuts. It is traditionally served with acaraje, a fusion of African and Brazilian flavors made of mashed black-eyed peas and rolled into medium-sized balls before being deep-fried.  
Las Pinatas
The history of Las Pinatas is a little murky but what is generally thought is that the festival began as a way to start the beginning of Lent in 13th Century Spain. 
The original pinatas were a ball with seven clay cones to symbolize the seven deadly sins of greed, gluttony, sloth, lust, envy, pride, and wrath. The pinatas represented Satan and had a religious meaning as a person would be blindfolded and strike at the pinata. As the pinata broke open, candies and other treats would fall out. 
Today the pinata has less religious symbolism but is still used to celebrate communions, parties, and birthdays throughout the Hispanic world. 
Christmas Celebrations
Christmas is one of the most important and popular of all the Hispanic heritage celebrations. With that said, there are many various types of ways Christmas is celebrated in the Hispanic world, and these are some of the most popular -
Las Posadas and Las Pastorelas: Posadas is the reenactment of when Mary and Joseph were looking for a place to stay before Mary gave birth to baby Jesus. The retelling of the story of Christmas is known as Las Pastorales. 
The tradition begins with a pinata symbolic of Satan's sins, and then comes a celebratory dinner. Often foods of tamales, bunuelos, atole, and cafe de olla are brewed hot beverages made from brown sugar and cinnamon. 
La Cena de Nochebuena: The theme of La Cena de Nochebuena is family and friends sharing a Christmas Eve dinner. In some Caribbean countries, the cuisine offers tamales, roast pigs, rice, and beans. Others, such as in Mexico, have special atole to drink and bunuelos for deserts. 

Some of the more popular dishes to celebrate during Christmas Eve dinner are: 
Coquito

: A Puerto Rican drink made during Christmas time with coconut and alcohol, similar to eggnog.




Roasted Poblano Tamales

: These tamales are stuffed with tomatillos sauce, cheese and poblano pepper. This delicious masa-stuffed dish is famous in central Mexico.




Pasteles:

Made of masa of plantains and seasoned taro root, its origination is from Puerto Rico but has expanded throughout the region.




Pozole

: This rich, brothy soup is comfort food made of hominy, pork, and red chiles and topped with cabbage, radish, cheese, cilantro, lime, and avocado.




Bacalao:

This Portuguese-based salted cod stew is made with potatoes, onions, boiled eggs, olives, and olive oil.




Chupe de Camarones:

This soup is a Peruvian delicacy of shrimp chowder.




Lechon Asado:

Barbeque is immensely popular in South American cuisine, and Lechon Asado is a whole roast pig prepared for special occasions such as La Cena de Nochebuena.




Arroz con Gandules:

This popular dish is made of rice, pigeon peas, and pork that has been sauteed with a sofrito to begin. 




Other key Christmas celebrations throughout Hispanic cultures include:
La Misa de Gallo: Midnight Mass celebrated by friends and families at midnight of Christmas. 

Los Farolitios y Luminarias: A festival of lights celebrating the Day of the Immaculate Conception and takes place on December 7th. 

La Carta al Nino Dios: This tradition consists of Christmas letters to the baby Jesus. 

Los Reyes Magos: The three kings tradition where children leave behind "gifts" and treats in honor of the three wise men.
Famous Traditional Food Dishes To Celebrate Hispanic Heritage Month
In Hispanic culture, food is a central component of celebrations, festivals and works as a social adhesive to bridge communities and build relationships. 
Empanadas:

This popular dish found in the South American cuisine of Argentina and other countries is the empanada. This pastry is stuffed with ground meat, chicken, olives, cheese, beans, or vegetables, making it highly flexible as a dish.




Tajadas:

Tajadas are made from fried ripe plantains and can be either a side dish to chicken or pork, served alongside rice, or even offered as a dessert. The meat is tender and sweet by using ripened plantains instead of green plantains that can be slightly bitter.   
Tortilla Espanola

: Primarily a dish of Spanish origin, it is similar to the "tortilla" breakfast dish made of whipped eggs identical to a frittata. Typically served as a dish, the Tortilla Espanola can also be served hot or cold or as a Tapa to share. 
Arepa:

The fried, baked, or grilled Arepa is made from unleavened cornmeal cakes and is typically served with melted cheese and salsa Fresca. The flexibility of the Arepa is that it can be served as a standalone food dish or be cut open to make into a sandwich. 
Gallo Pinto:

A staple in Central American cuisine, especially in Guatemala and Nicaragua, is the Gallo Pinto or rice and beans. But this dish isn't just your usual rice and beans, made with white rice, onions, peppers, spices, and dark beans topped with a salsa called salsa lizano. 
Elote Corn:

This street-food delicacy is made from roasted corn grilled and seasoned with Tajin, cotija cheese, cilantro, and occasionally slathered in with cream or mayonnaise. 
Ceviche:

Popular in Peru, Ecuador, Mexico, and many other coastal regions throughout Latin America is Ceviche. Primarily made with shrimp, ceviche consists of raw fish marinated in lime juice, onion, tomato, and cilantro, seasoned with salt and pepper. 
Flan:

This popular dessert is the Latin American version of creme Brulee or as prevalent as cheesecake. Made from evaporated milk, Flan is often served with dulce de leche, a sweet caramel sauce. 
Tacos

: Last but not least is the taco. A comfort food throughout Latin America, this versatile dish is made with corn tortillas. Variations may include meat, chicken, seafood, cheese, fresh cabbage or lettuce (Tex-Mex version), beans, guacamole, and salsa or hot sauce. Street tacos found by vendors throughout Latin America will often be small tortillas with protein, onion, cilantro, and hot sauce. 
Food is a central component of Hispanic culture. It celebrates special occasions, shares good times with friends and families, and helps make communities a special place to live. We share the area's history, culture, and traditions through food and make Hispanic heritage something to be celebrated and embraced.
Enjoy Hispanic Heritage Month between September 15th and October 15th. There are plenty of commonalities within each of these traditions and foods, and there are unique regional versions and tastes of each of our suggestions. So enjoy the heritage by exploring the rich, vibrant histories and foods that make Latin American and Hispanic culture exceptional.
---