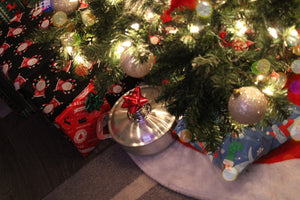 The Official tucocina Holiday Gift Guide
Buying thoughtful gifts during the holidays can be difficult, but if there is one thing every tradition has in common, it's food. Nothing brings people together more than a good meal. Cooking is often a centerpiece to longtime traditions. Upgrading someone's cookware has a direct correlation to a happy holiday season! 
However, cooking is a deeply unique experience for everyone! Not every home cook will want the same things.
We have compiled a guide to every type of home chef in your life to help make holiday shopping that much easier.
Best gift for the DIY chef:
A fresh, homemade tortilla is hard to beat. This aluminum tortilla press would be best suited for the cook in your life who loves to make everything from scratch and experiment with new dishes. 
Tortilla Press
Regular price: 

$19.99
Best gift for the seasoned home cook:
For the one who has everything, a durable tucocina plantain press will finish their collection! Our cast aluminum plantain press is the perfect tool to consistently craft perfect traditional plantain snacks.
Plantain Press 
Regular price: $14.99
Best gift for the beginner:
For the one who has nothing, but is looking to start their new cooking adventure, this affordable non-stick sauce ban bundle will start their collection off with a bang!  
Non-stick Sauce Pan Bundle
Regular price: $39.99
Best gift for the home bartender:
Help the bartender in your life to get every last drop from their lemons and limes. A home bar is not complete without a little citrus! 
Best gift for that person with a sweet tooth:
These traditional aluminum pitchers are perfect for making hot chocolate from scratch or warming milk for coffee and tea. The person who receives this will be so grateful to you in the cold months to come! 
Best gift for the traditional Latin cook:
Arepas have been enjoyed for centuries, and no one knows better than the traditional Latin cook in your life! Help them complete their cookware collection with this stovetop tucocina arepa grill! 
---