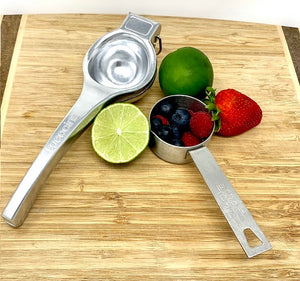 Homemade berry-Infused Lemonade
INGREDIENTS
1 Lime
1/4 Cup of berries
12 OZ of water

TOOLS / EQUIPMENT
Lime squeezer
Wood Muddler
Knife & Cutting board

PREP
Cut the lime in half, width-wise
Squeeze the juice out of each half of the lime into a sturdy glass (e.g., a pint glass) or a cocktail shaker
Add the berries and insert your muddler into the glass at an angle, press down hard in short, slow motions. The goal is not to hammer the bottom of the glass, but rather to firmly press the berries against the bottom of the glass.

Once the lime juice is infused with some of the color from the pressed berries, add cold water and a couple of ice cubes to complete your refreshing summer drink. If available you can add home-made fizzi water instead of regular water to make it extra refreshing.

Enjoy!
---